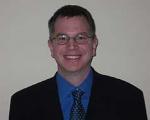 Christopher R. Clarkson (SPE)
Alfred E. Noble Prize in 2005
Dr. C.R. Clarkson is a senior reservoir engineer (P.Eng.), specializing in unconventional gas reservoirs. He received his M.A.Sc. and Ph.D. degrees in geological engineering from The University of British Columbia in 1994 and 1998, respectively. His research interests include gas adsorption and transport mechanisms in coal gas reservoirs and the development of new engineering techniques and tools for unconventional gas exploration and development.
Dr. Clarkson started his career as a reservoir engineer with Burlington Resources, applying his knowledge to primary and enhanced coal gas recovery (ECBM) operations in the San Juan Basin of Colorado/New Mexico. He then transferred to Burlington's Canadian division to assist with coal and shale gas exploration in western Canada. Dr. Clarkson is currently working with Burlington on a conventional asset team, assisting with development of properties in NE British Columbia/NW Alberta.
Dr. Clarkson has published extensively in a variety of technical journals over the past ten years. He has co-taught several short courses on unconventional gas reservoir engineering and continues to present his research at unconventional gas conferences across North America.