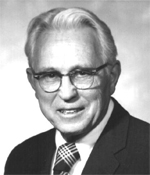 Vernon E. Scheid
AIME Robert Earll McConnell Award* in 1980
"Distinguished educator and long-time forceful advocate of realistic national policies in the management of mineral resources to insure the security and economic well-being of America."
Vernon E. Scheid is Professor of Mineral Economics at the University of Nevada. He received his A. B. and Ph.D. degrees in geology from Johns Hopkins University and his M.S. from the University of Idaho. He taught geology and mineral resources at both these universities, and was Chairman of the Department of GeologyGeography at the University of Idaho.
From 1951 to 1972, Dr. Scheid was Dean, Mackay School of Mines; Chairman and Director, Nevada Oil and Gas Conservation Commission; Director, Nevada Mining Analytical Laboratory; and Director, Nevada Bureau of Mines and Geology. During World War II he worked for the U.S. Geological Survey. He has also worked for the Arkansas Geological Survey, the Idaho Bureau of Mines and Geology, and as a consultant for the United Nations, and has served on numerous advisory boards for the State of Nevada.
Dr. Scheid's career has been marked by his dedication to keeping the public informed on critical mineral problems. He has been an advisor to several presidential candidates, and was prominent among those whose efforts led to the recent U.S. Mineral Policy Study.
As Vice-Chairman of the Industrial Minerals Division of AIME, 1956-57, Dr. Scheid proposed, and served as chairman of the first Pacific S.W. Mineral Industry Conference. He has served on a number of AIME committees, and was Chairman of the Nevada Section in 1965-66.