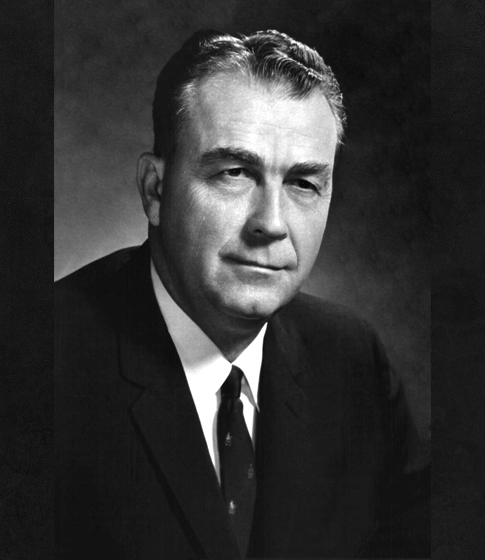 Robert F. Bauer
AIME Robert Earll McConnell Award* in 1971
"In recognition of his imaginative direction of deep sea drilling projects which have led to new concepts of continental drift and mineral deposition."
Robert F. Bauer is Chairman of the Board and Chief Executive Officer of Global Marine, Inc., one of the five largest offshore oilwell drilling contracting companies in the world, and was one of the founders of the Los Angeles company.
Mr. Bauer joined Union Oil Company of California immediately after his graduation and was assigned to the Los Angeles Refinery at Wilmington. He was then transferred to the Research Department and handled special field research assignments in various parts of the United States. In 1948 .Mr. Bauer was assigned to Union's Field Department as a production foreman in Santa Maria, and two years later was promoted to District Production Foreman in charge of the unitized operation at the Coalinga Nose Unit in the San Joaquin Valley. He next moved to the Los Angeles area as District Superintendent and Chief Field Engineer in Sante Fe Springs.
In 1953, he was appointed Manager of Operations for a joint venture group consisting of Continental Oil Company, Union Oil Company, Shell Oil Company, and Superior Oil Company. This group became known as the CUSS group, and was formed to conduct research and development in offshore oil drilling and producing methods and geological and geophysical exploration. Drilling from floating vessels, a revolutionary method of extracting oil from beneath the sea, resulted from the work of the CUSS group, and culminated in the construction and successful operation of the drilling vessel "CUSS I," the first heavy duty, center-well drilling barge.
The joint venture group was dissolved in 1958 after which Mr. Bauer became the first President of Global Marine Exploration Company, an organization whose founders were the key operations and engineering personnel of the CUSS group. Global Marine Exploration Company later became Global Marine, Inc., and in September, 1966, Mr. Bauer was elected Chairman of the Board.
Mr. Bauer, a 1942 Petroleum Engineering graduate of the University of Southern California and a native of Idaho, is a member of numerous professional societies and civic groups. He is a member of the Society of Petroleum Engineers of AIME and was President of his AIME Student Chapter. He is also a member of American Petroleum Institute, United Nations' Economic Commission for Asia and the Far East, and serves on the California State Board of Registration for Civil and Professional Engineers. He is on the Board of Advisors of Undersea Technology, and is Director of the National Oceanography Association.
Mr. Bauer has written many technical papers, some of which have appeared in publications of AIME, ASME and API.