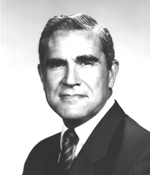 Richard L. Lawson
AIME Robert Earll McConnell Award* in 1997
A tireless and eloquent spokesman as president of the National Mining Association, advancing appreciation and interests of the nation's mining industry by the public and government."
Richard L. Lawson is president and chief executive officer of the National Mining Association. He previously served for nearly eight years as president of the National Coal Association and was NCA president at the time the organization merged with the American Mining Congress to form the National Mining Association. Lawson came to NCA after a distinguished military career spanning four decades. Retiring as a four-star general of the A1r Force in December 1986, he seNed from 1983 to 1986 as deputy commander-in-chief of the US European Command, Stuttgart, Germany where he commanded operations, formulated policy and negotiated with host governments for all US land, sea and air forces in Europe, portion of the Middle East and most of Africa. The command encompassed 77 countries.
Gen. Lawson is a graduate of Parsons College where he received a BS in chemical engineering; and the George Washington University where he received a master of public administration degree. He is a graduate of the National War College and has been awarded an honorary doctorate of political science by Centenary College, Shreveport, LA and an honorary doctorate of laws by Boston University.