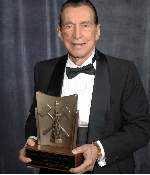 Joseph Iannicelli (SME)
AIME Robert Earll McConnell Award* in 2012
In recognition of his invention, development, and commercialization of high gradient magnetic separation.
Joseph Iannicelli is a native of Long Island, New York and received S.B. and Ph.D. degrees in organic chemistry at M.I.T. (1951, 1955). After graduate school, he worked at Dacron Research, DuPont for five years, often on loan to other laboratories; Nylon Research (radiation grafting), Orchem (dyeing studies), Pioneering Research (new polymers).
In 1960, Joe joined privately owned JM Huber Corp where he rose from Supervisor, Research Manager, to Technical Director of the Huber Kaolin Clay Division.
He developed numerous processes and products including high gradient magnetic separators which doubled useable kaolin clay reserves worldwide. Joe's development of functional silane clays converted cheap fillers into premium reinforcing pigments.
In 1970, Joe formed Aquafine Corporation which became the exclusive world-wide representative for sales of his newly invented high gradient magnetic separators. During the next 25 years, Joe sold twenty-three 84" separators (280 tons each) to U.S. and overseas firms (Great Britain, Germany, Australia) and seven gigantic 120" separators each weighing 700 tons (total 11,340 tons) plus smaller units to China and Finland.
Along with his sales and R&D activities in magnetic separation, Joe represented Niro Atomizer on sales of 30 industrial spray dryers to the Georgia kaolin industry. Joe also founded Aero-Instant Spray Drying Services and co-founded IMPEX Corporation.
Beside his commercial activities, Joe operates R&D, pilot plants, and contract spray drying services. Joe has issued over 100 US and foreign patents and is the author of dozens of publications on industrial minerals production and beneficiation.
Joe resides on Jekyll Island in a waterfront home he built as construction manager. Joe also has a country home on his 1100 acre New Hope Plantation, a Crown Grant dating from 1763. He has been an active member of his community, serving as President of the Jekyll Island Citizens Association, Chairman of the local Board of Education, Foreman of the Glynn County Grand Jury, Vice-President and President of the Tidewater Conservation Association, Founder and President of the Glynn Union of Taxpayers and belongs to numerous other Civic Associations. Joe also served as Chairman of the SME Robert Earll McConnell Award Committee 1996-97. Joe has three children, one grandchild, and is married to Joanna Gentile Iannicelli.