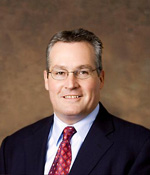 James J. Metcalf (SPE)
AIME Robert Earll McConnell Award* in 2009
For his commitment to conducting safe, environmentally sound global drilling operations and for his service to the Big Brothers Big Sisters of Greater Houston organization.
James J. Metcalf has been Vice President – Drilling since 2005. Prior to this assignment, Metcalf served as Newfield's Drilling Manager- Worldwide. He also worked as a Drilling Engineer and Drilling Team Leader after joining Newfield in 1995.
Before joining Newfield, he worked for two Gulf Coast Independents: Chilton Energy and Lavon Evans Operating Co. where he oversaw production and operations.
After graduating from college in 1979, Metcalf worked for Tenneco Oil Exploration and Production as a Drilling Engineer and Senior Drilling Engineer.
He is a member of the Society of Petroleum Engineers, the International Association of Drilling Contractors, the American Association for Drilling Engineers and the National Ocean Industries Association.
Metcalf is an active volunteer with Big Brothers Big Sisters of Greater Houston. In 2006, he was presented the state's top honor as Texas Big Brother of the Year at the organization's annual meeting. He has been a Director since 1998.
Metcalf holds a degree in Petroleum Engineering from Marietta College.