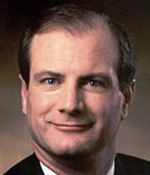 J. Steven Whisler (SME)
AIME Robert Earll McConnell Award* in 2008
For his consummate leadership of the United States copper industry, dedication to safety, inspiring environmental stewardship, commitment to innovation, development of major mining projects, and significant social contributions to the community.
J. Steven Whisler, 53, holds a B.S. degree in business from the University of Colorado, a J.D. degree from the University of Denver College of Law, and an M.S. degree in mineral economics and a D. Sc. degree in engineering (Hon.) from the Colorado School of Mines. Mr. Whisler also attended Harvard Business Schools Advanced Management Program. He is admitted to the bar of the state of Colorado, various federal courts and the United States Supreme Court. He is a Certified Public Accountant in the state of Arizona.
Mr. Whisler retired as Chairman and Chief Executive Officer of Phelps Dodge Corporation, a Fortune 500 company based in Phoenix, Arizona, in March 2007 after a 30-year career following its merger with Freeport Copper & Gold Inc.
Mr. Whisler is a director of the Burlington Northern Santa Fe Corporation, Fort Worth, Texas; the US Airways Group, Inc., Tempe, Arizona; the Brunswick Corporation, Chicago, Illinois, the International Paper Company, Memphis, Tennessee; and the National Cowboy and Western Heritage Museum, Oklahoma City, Oklahoma. He is also a former member of the Business Council and the Business Roundtable.