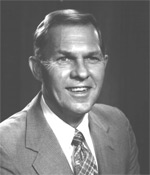 F. Kenneth Iverson (ISS)
AIME Robert Earll McConnell Award* in 1983
For his leadership role in pioneering the application of innovative ways to produce steel with minimum capital expenditure and maximum materials, energy and labor efficiency.
F. Kenneth Iverson received a B.S. degree in aeronautical engineering from Cornell University and a master's degree from Purdue University. He has also received honorary doctorates from the University of Nebraska and Purdue University.
He began his career as a Research Physicist with International Harvester and held a number of technical and administrative positions in the metals industry, including Chief Engineer for Illium Corp.; Assistant to the Vice President of Marketing, Indiana Steel Products Co.; Manager of Production and Sales Manager, Cannon Muskegon Corp., and Executive Vice President of Coast Metals, Inc., before joining Nucor. In 1962 Mr. Iverson Joined Nucor Corp., becoming a Group Vice President a year later. Since his election as President of Nucor in 1965, company sales have increased 2400 percent.
Mr. Iverson is a member of The Metallurgical Society of AIME, the American Society for Metals, and serves on the Board of Directors of the National Association of Manufacturers, Rexham Corp., Wikoff Color Corp., Cato Corp., Southeastern Savings and Loan, C. H. Heist Corp., the Council for a Competitive Economy, Wachovia Corp., Wal-Mart Stores, Citizens for a Sound Economy and the Greater Charlotte Foundation.
The author of numerous technical and business articles, Mr. Iverson also serves as 'guest lecturer at Queens College, Charlotte, North Carolina. Mr. Iverson was named Best Chief Executive in the Steel Industry in 1981 and 1982 by the Wall Street Transcript. He has received a number of honors and awards. He was awarded the National Medal of Technology, the nation's highest award for technological achievement, by U.S. President George Bush.