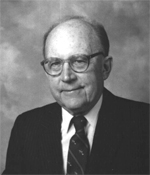 Edward J. Dulis
AIME Robert Earll McConnell Award* in 1990
"For his pioneering work and leadership in the development of the powder metallurgy process for the production of high speed tool steels and superalloys."
Edward J . Dulis is President of the Crucible Research Center, a Division of the Crucible Materials Corporation. Prior to joining Crucible in t955, Mr. Dulls was employed in various capacities at the United States Steel Corporation Research Laboratories and at the Naval Air Experimental Station. Mr. Dulis was graduated from the University of Alabama and earned an M.S. from Stevens Institute of Technology. He also completed the Columbia University Graduate Business School Advanced Management Program. He is the author of 60 technical publications on various aspects of metallurgy and holds 16 U.S. patents.
Mr. Dulis is a Fellow of ASM International and a former member of their Board of Trustees. In 1983, he was appointed to the National Materials Advisory Board. He previously served on five National Materials Advisory Board Committees. He is a member of ASM, AIME, AMA, and APMI, and is a past chairman of the Pittsburgh Chapter of TMS. The career awards Mr. Dulls has received include the 1978 E. C. Bain Award of the Pittsburgh ASM Chapter, the 1979 William Hunt Eisenman Medal of the Philadelphia ASM Chapter, and the 1985 ASM Albert Sauveur Achievement Award. He was elected a University of Alabama Sesquicentennial Distinguished Engineering Fellow and 1988 Outstanding Metallurgical Engineering Fellow.