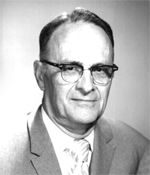 C. Paul Besse
AIME Robert Earll McConnell Award* in 1974
"In recognition of his outstanding contributions in the development of successful off-shore drilling techniques which have significantly enlarged available oil reserves."
C. Paul Besse is the Assistant Chief Engineer (Construction) of the California Company Division of Chevron Oil Company. He received a Bachelor of Science degree in civil engineering from the Texas Agricultural & Mechanical University in 1933. After a year of graduate study in structural design and four years in highway construction, Mr. Besse joined a subsidiary of Standard Oil Company o California in 1938.
Since the beginning of Chevron's offshore operations in the Gulf of Mexico, he has pioneered in design and development of new systems of drilling. Some of these designs and systems include: floating drilling tenders, mobile drilling units, multiple well derricks, innovative platforms, reel method of pipe line installation, and the first dual rig platform in the Gulf of Mexico. Related research projects that he has instigated are lateral load capacity of single and multiple piles, measurements of hurricane wave heights and wave force, tubular steel structural joints, and vertical load capacity of piles penetrating in excess of two hundred feet. He has also supervised execution and evaluation of these projects.