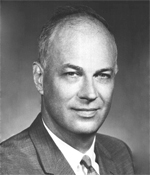 Walter R. Hibbard, Jr. (TMS)
AIME James Douglas Gold Medal* in 1967
"For his persevering leadership in advancing the Metallurgical Profession as a teacher, outstanding contributor to the technical literature, manager of industrial research and public servant."
Dr. Walter R. Hibbard Jr., director of the Bureau of Mines and AIME's 1967 president, has been eminent in earlier work in education and research and development, and in directing metallurgy and ceramics research.
After graduating from Wesleyan University in 1939, he went on to receive his doctor of engineering degree from Yale University in 1942. After World War II military service, he joined the faculty at Yale as an assistant professor and later became associate professor. In 1951, he began work for General Electric at its research and development center and subsequently was named manager of metallurgy and ceramics research there.
Dr. Hibbard is the author of more than 70 scientific papers and has been widely recognized as a major contributor to the science of metallurgy. In 1957, he was a member of the exchange delegation of United States metallurgists visiting the Soviet Union. He is a member of the National Academy of Engineering and a fellow of the American Academy of Arts and Sciences.
Besides holding an honorary doctor of laws degree from Michigan Technological University, he has been elected to honorary and professional fraternities including Phi Beta Kappa, Sigma Xi, Alpha Chi Sigma, and Gamma Alpha.