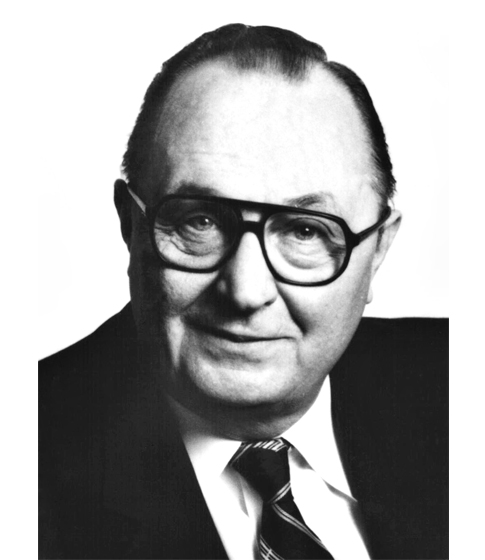 Vladimir N. Mackiw (TMS)
AIME James Douglas Gold Medal* in 1991
"For leadership in helping to transform a mining company into a major producer of refined nickel, cobalt, fertilizer and specialty metals and chemicals."
Vladimir N. Mackiw was with Sherritt Gordon Limited for 39 years until his retirement in 1988. He now serves as a consultant to Sherritt. During his tenure with the company, he held the positions of Research Chemist, Director of Research & Development, Vice President of Technology and Corporate Development, and Executive Vice President, Metals Division, Special Products Division. Research Centre, Manufacturing Services. Mr. Mackiw was educated at the Universities of Breslau and Erlangen, Germany, and earned an M.Sc. in Chemistry in 1946. He did post-graduate work in 1947-1948 at the University of Louvain, Belgium.
The author or co-author of more than 50 publications in numerous chemical and metallurgical journals, Mr. Mackiw also holds more than 40 patents. He has participated in the development of the Canadian government's research policies as a member of the National Research Council of Canada from 1971-1977 and as a member of the National Advisory Committee on Mining and Metallurgical Research to the Minister of Energy, Mines, and Resources from 1972-1979. serving as cochairman from 1975-1979. Mr. Mackiw has also participated in the government's technical and trade missions to the Soviet Union, Belgium, and The People's Republic of China. For his contributions to the mineral industry, Mr. Mackiw has received the Inco Platinum Medal, Canadian Institute of Mining & Metallurgy, 1966; R. S. Jane Memorial Award. Chemical Institute of Canada, 1967; Honorary Degree of Doctor of Science, The University of Alberta, 1974; Gold Medal, the Institution of Mining and Metallurgy, London. 1977; and the Canadian Research Management Association R&D Management Award, 1990.