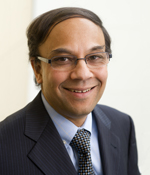 Uday Bhanu Pal (TMS)
AIME James Douglas Gold Medal* in 2015
For pioneering work in the new field of green metallurgy and materials as applied to primary production and recycling of metals.
Professor Pal has six years of industrial R&D (Allegheny Ludlum Steel and Westinghouse Electric Corporation) and twenty three years of academic (MIT and BU) experience. His research is in the area of high temperature chemical and electrochemical processes: fuel cells, membrane separation, metals processing and recycling. He has received several professional awards including the TMS Extraction and Processing Technology Awards in 2000 and 2003, authored/co-authored over 170 publications and has 22 patents.
Recent Professional Highlights
Helped in creating the Materials Science and Engineering Graduate Program at Boston University in 2008 and served as the first Division Head of the Program (2008-2011).
Licensed membrane-based oxide electrolysis technology that helped in launching MOxST (Natick, MA) in 2009; company name recently changed to Infinium. It employs 25 people and is involved in the scaleup of the licensed metals production and recycling technology.
Received the Distinguished Foreign Scientist Award in 2012 from India's premier industrial research organization, the Council of Scientific and Industrial Research (CSIR); invited to visit and lecture at the CSIR labs.