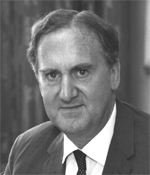 Sir Alan Howard Cottrell (TMS)
AIME James Douglas Gold Medal* in 1974
"For creative contributions to metallurgy and society - from original research on imperfect crystals and applications in materials development to the broadest questions of public science policy.''
Sir Alan Howard Cottrell was born in Birmingham, England. He is a graduate of the University of Birmingham where he received his B.Sc. in 1939, and his Ph.D. in 1942. He later taught at the University, and left in 1955 to become Deputy Head of the Metallurgy Division of the Atomic Energy Research Establishment where he remained until 1958. From 1958-65 he was Goldsmiths' Professor of Metallurgy at Cambridge University; Deputy Chief Scientific Adviser (Studies) Ministry from 1965-67; Chief Adviser (Studies) in 1967; Deputy Chief Scientific Adviser to Her Majesty's Government from 1968 to 1971; and he is presently the Chief Scientific Advisor to Her Majesty's Government.
Many honorary degrees have been conferred upon Sir Alan and he is the recipient of an outstanding number of important awards and medals. He is one of the few foreign associate members of the National Academy of Sciences (elected in 1972).
His contributions to non-ferrous metallurgy include his theoretical work on dislocations which provided a new level of explanation of the properties of metals and alloys, and on the swelling of nuclear fuel elements.