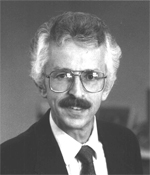 Siegfried S. Hecker (TMS)
AIME James Douglas Gold Medal* in 1990
"For his many valuable contributions to the knowledge of tire mechanical behavior of nonferrous metals, especially plutonium and aluminum alloys, and for Iris demonstrated leadership in the materials field."
Siegfried S. Hecker is Director of Los Alamos National Laboratory. He has demonstrated outstanding leadership qualities in the materials field, rising from a star member of the Los Alamos National Laboratory to Laboratory Director with Intermediate responsibilities as Division Leader for Materials Science and Technology and as Director of the Center for Materials Science. He assumed his current position in 1986. A 1965 graduate of Case Western Reserve University, he received his MS. and Ph.D. from that university, both in Metallurgy.
A Fellow of ASM International, Dr. Hecker is also active in a number of other professional societies. He has been a member of TMS since 1964 and has served on several committees and on the TMS Board of Directors. Dr. Hecker is a member of the Board of Regents, University of New Mexico. and serves on the Boards of the R1o Grand Technology Foundation. Carrie Tingley Hospital. Albuquerque, and the Santa Fe Institute. He was elected to the National Academy of Engineering 1n 1988.