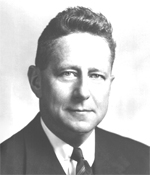 Paul Queneau (TMS)
AIME James Douglas Gold Medal* in 1968
"For the development and successful application of processes for nickel extraction leading to profitable working of low-grade ores and increased recovery of valuable byproducts."
Paul Queneau holds an E.M. degree from Columbia University and was an Evans fellow at Cambridge University, England. He began his research and development career in extractive metallurgy with The International Nickel Company, Inc. in 1934. Vice-president of the company since 1958, he is currently assistant to the chairman and consulting engineer responsible for advancing the firm's process technology.
During World War II, Mr. Queneau served as chief-of-staff of the Army Ruhr Mines Task Force. When the war ended he returned to the reserves a lieutenant colonel, and was later promoted to colonel.
Mr. Queneau is a fellow of The Metallurgical Society of AIME and also the Society's 1968 vice president. He serves on Columbia University's Engineering Council, M.I.T.'s Visiting Committee, and on the boards of AIME and the Engineering Foundation.