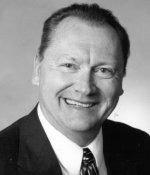 K. Marc Le Vier (SME)
AIME James Douglas Gold Medal* in 2002
"For his efforts in the research and development of new processes to treat refractory gold ores."
Marc LeVier is Manager, Metallurgical Services and Process Technology for Newmont Mining Corporation. He has worked in the mining industry for over 30 years in operations, equipment engineering and sales, and research and development. He has been a member of SME since 1970. He obtained his BS Metallurgical Engineering in 1971, MS Metallurgical Engineering in 1977 at Michigan Technological University.
He is currently serving on the MPD Executive Committee, is Chairman, Colorado MPD, and Program Chair for the SME Colorado Section. In February 2001 Marc was elected to serve as President of the Mining and Metallurgical Society of America (MMSA) and received the AIME James Douglas Gold Medal Award in 2002.