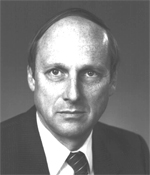 John Edward Dutrizac (TMS)
AIME James Douglas Gold Medal* in 1998
"For his outstanding contributions and achievements in research and development related to the processing of zinc and lead, the electrorefining of copper, and the treatment of metallurgical effluents to control iron and thiosalts, and for his dedicated service to the metallurgical profession."
John Edward Dutrizac is a research scientist at CANMET. He received his BASe and PhD from the University of Toronto, Toronto, Canada in metallurgical engineering. His doctoral thesis focussed on the physical chemistry and thermodynamics of various alkali chlorozironate and chlorohafnate molten salt compounds. Upon graduation he worked at the Noranda Technology Centre in Pointe Claire on the chemistry of selenium before joining CANMET.
Dr. Dutrizac's current research activities focus on the leaching of sulphide minerals in ferric sulphate or ferric chloride media, on the characterization of the anodes and anode slimes produced during copper electrorefining and on zinc processing. The iron precipitation problem associated with both sulphide leaching and zinc processing has been extensively researched. He has also been involved in leach recycling and with the history of metallurgy. He has published over 175 papers on these topics and has made numerous presentations on his research work.
Dr. Dutrizac has been involved with a number of professional societies and has helped to organize various national and international conferences. He coordinates· several industry-university-government working groups related to the processing of base metals; and he is the recipient of a number of national and international awards that recognize his contributions to the metallurgical industry. He is a member of TMS.