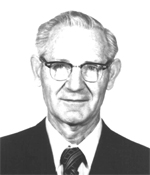 Joe B. Rosenbaum
AIME James Douglas Gold Medal* in 1980
"For his accomplishments in mineral processing and metal extraction technology; with an outstanding record of service to his profession, his government and to AIME."
Joe B. Rosenbaum retired as Research Director of the U.S. Bureau of Mines Salt Lake City Metallurgy Research Center in 1974, having joined it in 1968, when he also became Adjunct Professor, Metallurgical Engineering, at the University ofUtah. He is presently a consulting metallurgist in Salt Lake City.
After earning a B.S. degree in Metallurgical Engineering from the Colorado School of Mines in 1934, Mr. Rosenbaum worked as a designer of public buildings for the Public Works Administration. In 1941 he joined the U.S. Bureau of Mines as a metallurgist at the Boulder City, Nevada, Metallurgy Research Laboratory. He served with the Army Corps of Engineers, attaining the rank of major, during World War II, after which he returned to the Bureau of Mines, working first in Nevada, then Utah.
In 1975, Mr. Rosenbaum was Chairman of the Advisory Group Meeting on Uranium Ore Processing, International Atomic Energy Agency. He has also served on a number of National Research Council panels and committees. In 1974, he was an AIME Henry Krumb lecturer, and has also been honored with a Presidential Citation for Outstanding Contributions to Government Operations, the Distinguished Service Award of the Department of the Interior and by election to the National Academy of Engineering.
Mr. Rosenbaum is the author of fifty five publications on mineral technology.