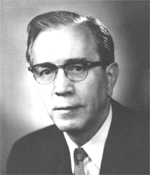 Bruce W. Gonser
AIME James Douglas Gold Medal* in 1971
"For many stimulating and valuable contributions to the "thinking" of metallurgists as well as to the doing' of extractive metallurgy."
Dr. Gonser is a consultant and retired Technical Director of Battelle Memorial Institute's Columbus Laboratories. He has been identified with metallurgical research for more than 45 years.
Dr. Gonser initiated studies on the properties and development of uses for many of the uncommon metals such as germanium, zirconium, and chromium, as well as the more familiar nonferrous metals and their alloys. He was among the first to begin research on deposition and coating of metals by the decomposition of vaporized metal halides. He directed research leading to important discoveries in refractory coatings of carbides, borides, and nitrides.
For many years Dr. Gonser headed the work of the International Tin Research Institute in this country, and remains a trustee of this organization. He is regarded as an authority on the utilization of tin, and in 1969 was chairman of the National Materials Advisory Board's Panel on tin.
Before joining Battelle in 1934, Dr. Gonser gained seven years practical experience in nonferrous extractive metallurgy in research activities at various plants of American Smelting and Refining Company. It later aided in organizing research groups at Battelle and in helping to organize metallurgical research activities at the Frankfurt, Germany, and Geneva, Switzerland laboratories, as well as in Spain, and South Korea. With the United Nations in 1965, Dr. Gonser was advisor to the National Institute for Industrial Technology in Argentina. Dr. Gonser additionally contributed to various advisory groups concerned with governmental research. He has held such AIME offices as Chairman of the Committee on Reduction and Refining of Titanium and Uncommon Metals, Chairman of the Extractive Metallurgy Division, and Board of Directors. Dr. Gonser has also been active in numerous other professional organizations.
Dr. Gonser received his degree in chemical engineering from Purdue University which awarded him its highest recognition, the honorary degree of Doctor of Engineering in 1967. He received his M.S. in Metallurgy from the University of Utah, and later earned a Doctor of Science degree in nonferrous metallurgy and metallography from Harvard. Born near Hudson, Indiana, Dr. Gonser is now a resident of Columbus, Ohio.
He is the author of more than 100 research papers and technical articles, editor, author or co-author of eight books and is credited with 14 patents.