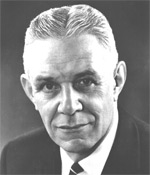 Augustus B. Kinzel (TMS)
AIME James Douglas Gold Medal* in 1960
"For outstanding contributions and inspiring leadership in the field of electrolytic and electrothermic winning of nonferrous metals and for his notable administrative ability."
Augustus B. Kinzel was born in New York City in 1900. He received a B.A. cum laude in mathematics from Columbia University in 1919, a B.S. in engineering from M.I.T. in 1921, and, subsequently, doctorates in metallurgical engineering and science from the University of Nancy, France. He was awarded the honorary degrees of doctor of engineering from New York University in 1955 and doctor of science from Clarkson College of Technology in 1957.
In 1926, he became a research metallurgist with Union Carbide and chief metallurgist in 1931. After holding executive positions in several of the Corporation's divisions, he became Vice-President -Research in 1955.
One of the country's leading metallurgists, Dr. Kinzel pioneered in the theory of stainless steels, and theory and application of the structural low-alloy steels and new ferro-alloys. He spearheaded the development of Union Carbide's process for making titanium metal. He holds more than forty patents.
In the field of nucleonics, Dr. Kinzel is a leading authority and has served as consultant to various AEC installations. During World War II, he held key advisory posts in the ordnance field. He is a member of the Defense Science Board and of the Naval Research Advisory Committee; President of Engineers Joint Council; Chairman of the Engineering and Industrial Research Division of the National Academy of Science; and a Fellow of the New York Academy of Science.
Dr. Kinzel is co-author of the 'Engineering Foundation's volumes on "Alloys of Iron and Chromium" and is the author and co-author of more than sixty technical papers. He has given many of the honorary memorial lectures in metallurgy, and is the recipient of several outstanding awards.