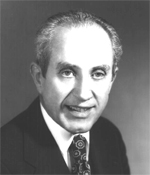 Allen S. Russell (TMS)
AIME James Douglas Gold Medal* in 1987
"For his leadership in developing energy saving, alternative aluminum smelting processes, and for his contributions on the nature and useful adaptation of alumina and aluminum."
Allen S. Russell retired as Vice President and Chief Scientist of Aluminum Company of America after a career with the company which began in 1940. He received his bachelor's, master's and doctor's degrees from The Pennsylvania State University, where he majored in chemistry. A major contributor to the technological achievements of the aluminum industry, Dr. Russell holds 10 patents and has authored or co-authored 40 published articles.
Dr. Russell is a member of the National Academy of Engineering and is a Fellow of The Metallurgical Society, ASM International and the American Institute of Chemists. In September 1979, he was named "Scientist of the Year" by the Board of Industrial Research and Development Magazine. In 1980, The Pennsylvania State University named him an Alumni Fellow, and in 1981, he received the Karl J. Bayer Medal from the Seventh International Light Metals Congress 1n Vienna. Dr. Russell was the TMS Extractive Metallurgy Lecturer in 1981 . In 1982 he was awarded the Gold Medal of ASM and in 1983 was the recipient of the Chemical Pioneer Award of the American Institute of Chemists.
On retirement from Alcoa 1n 1982, Or. Russell joined the faculty of the University of Pittsburgh as an adjunct professor. He served as a viSiting professor at the University of Florida and The Norwegian Institute of Technology in Trondheim. He was active on committees for the National Research Council and various technical societies and Universities.