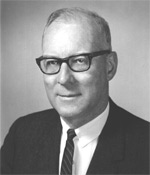 Albert John Phillips (TMS)
AIME James Douglas Gold Medal* in 1966
"For major advances in copper refining technology, for pioneering in recovery of essential non-ferrous metals, and for leadership in coordination of national materials research programs."
Albert John Phillips was born in New Haven, Connecticut, in 1902. He attended Yale University, where he earned BS, MS and PhD degrees. After working with Scovill Manufacturing Co. from 1925 to 1931, he joined the American Smelting and Refining Co. as superintendent of Central Research Laboratory.
He later served as manager from 1940 to 1949, and was appointed Director of research in the Research Department from 1949 to 1953. He is currently vice president and director of research for the company.
A Fellow of the Metallurgical Society, Phillips was the Institute of Metals Division Lecturer in 1947 and was chairman of that division in 1937. In 1962 he delivered the Annual Lecture of the Extractive Metallurgy Division. He has maintained a close and active relationship with the National Academy of Sciences, and is now a member of the Executive Committee of the NAS-NRC Division of Engineering and Industrial Research.