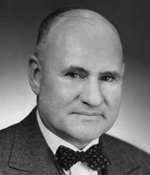 Zay Jefferies (TMS)
AIME Honorary Membership in 1950
In recognition of the honor which he has brought to the engineering profession and in particular to the profession of physical metallurgy by his lifelong service as an educator, scientist, and administrator; of his untiring service to the Nation throughout the las war; and of those qualities of friendliness, courtesy, courage and integrity which have made him an inspiring example for the young men of his profession.
Dr. Zay Jefferies was a founding member of the Cleveland Chapter of the American Society for Steel Treating (ASST), which was the forerunner of the American Society of Metals (ASM) and ASM International. He was active in ASM throughout his life, even speaking at the dedication of the ASM Headquarters in 1960 at the age of 72. He served as national president of ASST (1929), and as Director-General of the First (1951) and Second (1957) World Metallurgical Congresses. He was a recipient of all six major ASM awards.
Zay Jefferies came to Cleveland from South Dakota in 1911 to become an instructor at the Case Institute of Technology (CIT). He became a professor at CIT in 1916 and later served as a member of the Board of Trustees after retiring.
Among his numerous industry positions, Zay Jefferies served as the Head of Alcoa's research laboratories in Cleveland where, along with R.S. Archer, he was responsible for the development of 2014, 2024 and 6051 aluminum alloys. At the same time Jefferies was a consultant to the National Lamp Works of General Electric (GE) in Cleveland (Nela Park) where he installed the first X-ray diffraction unit in US industry. He persuaded GE to undertake its first non-electric light related venture with the formation of Carboloy to make carbide tooling, a GE division that he later came to head. Other local companies for which Zay Jefferies was a consultant included National Tube Company of United States Steel, Electric Railway Improvement Company of Cleveland, The Cleveland Steel Tool Company, Lincoln Electric and W.S Tyler Company he often provided expert testimony for his clients.
Amid Dr. Jefferies many technical accomplishments were ground breaking work on the microstructure of ductile tungsten; pioneering work on the quantitative analysis of microstructures and X-ray diffraction as a laboratory tool; and one of the earliest explanations for age hardening, the slip interference theory published with R.S Archer in 1921.
During World War II, Zay Jefferies served upon and headed a large number of committees as a member of the National Research Council while continuing as President of Carboloy. He was also a consultant to Arthur Compton at the Metallurgical Laboratory at the University of Chicago, the Manhattan Project facility that first produced a self-sustained chain reaction.