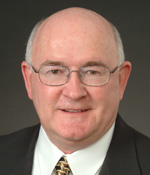 William M. Cobb (SPE)
AIME Honorary Membership in 2011
For distinction in the technical arena with his knowledge of waterflooding, for his more than 30 years of service to SPE, for his 7 years of service on the SPE Board of Directors, for serving as Vice President and President and for facilitating the expansion of SPE into the Middle East and other global regions.
Bill Cobb is Founder and President Emeritus of Cobb & Associates, a petroleum consulting firm based in Dallas, Texas, specializing in waterflooding, fluid injection, field studies, reserves evaluation and certification, and reservoir management. Cobb's 35 years of experience in the petroleum industry includes research, staff, and district positions for Arco Oil and Gas. He also headed oil and gas operations for Cornell Oil Company, an independent oil and gas company. Cobb taught reservoir engineering at Mississippi State University, where he now serves on the Dean's Development Council. He is currently an adjunct professor of petroleum engineering at Texas A&M University.
Before his nomination as 2008 SPE president, Cobb served as SPE vice president of finance and on many SPE committees, including the Reservoir Engineering Program Committee, Publications Review Committee, Distinguished Author Series Committee, and as chairperson of the Formation Evaluation Committee. He chaired the committee that recommended opening an SPE office in the Middle East and served on the SPE Fund Raising Committee in support of the SPE.org initiative. He was an SPE Distinguished Lecturer in 1995. In 1999, he received the SPE Reservoir Engineering Award.
Cobb has served in numerous leadership positions at the section level, including program chairperson and general chairperson for the Hydrocarbon Economics and Evaluation Symposium sponsored by the Dallas Section. In addition to publishing technical papers, he has made more than 50 technical presentations to SPE sections throughout the world.
He received BS and MS degrees from Mississippi State University and a PhD from Stanford University, all in petroleum engineering.