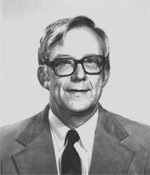 William E. Brigham (SPE)
AIME Honorary Membership in 1994
In recognition of nearly four decades of technical and scientific contributions to petroleum engineering in the fields of reservoir performance, reservoir characterization and improved oil recovery, and his willingness to share these results as a teacher and author.
William E. Brigham is associate chairman of the Petroleum Engineering Department at Stanford University and has been a professor there since 1971. Brigham received a BS in chemical engineering from Iowa State University and an MS and PhD in chemical engineering from the University of Oklahoma. He was a chemical engineer with Sohio Petroleum Co and with S.C. Johnson and Sons before joining Continental Oil Co. in 1958 rising to supervising research scientist and research associate in the Production Research Division.
Over the past three decades Brigham has made pioneering contributions in the use of tracers, mixing and dispersion in porous media, pulse testing in reservoir description and the understanding and application of thermal oil recovery processes. He has authored over 200 publications and reports, mostly on reservoir mechanics and secondary recovery. Since 1976 he has directed the research program on thermal recovery of heavy oil at the Stanford University Petroleum Research Institute.
Dr. Brigham is a 1968-69 SPE Distinguished Lecturer, received the Cedric K. Ferguson Medal in 1977 and in 1988 became a Distinguished Member and received the John Franklin Carll Award . He has served on many editorial, educational and program committees; he currently serves as a member of the DeGolyer Distinguished Service Medal Committee.