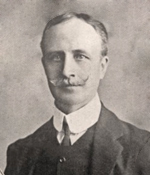 William Cuthbert Blackett
AIME Honorary Membership in 1921
William Cuthbert Blackett was born in 1860. The son of Dr. W. C. Blackett, he followed his father to Durham School and went on to the Durham University College of Science at Newcastle. He worked in fitting shops and coalmines, became a mine manager and chief engineer, and specialised in colliery explosions and rescue work. He was managing director and mining engineer of the Charlaw and Sacriston Collieries, and a director of the Houghton Main Colliery and other companies.
Blackett was elected member of the Institute as a student on the 4th of November 1876. He became an associate member on the 1st of August 1885 and a full member on the 8th of June 1889. Blackett was a member of the Council and Vice-President, before becoming President between 1912 to 1914.
During the First World War he commanded several territorial battalions and served in France in 1918 (being made a CBE).
William Cuthbert Blackett died on the 15th of June 1935.