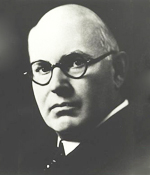 William Boyce Thompson
AIME Honorary Membership in 1928
William Boyce Thompson, one of the greatest mining promoters in history and founder of the Newmont Mining Corporation, was directly responsible for the development of some of the most profitable mining properties in the world.
He made his fortune in the New York securities market through shrewd investments. It was clear to him the way to get rich was to promote mining stocks, so he founded his own brokerage house in 1916 and called it the Newmont Company. The "New" from New York and "Mont" from Montana, because he grew up in the latter and made his money in the former. His reputation as a promoter grew. He developed the Inspiration and Magma Mines in Arizona, two of the country's best copper producers. In 1925, he changed the name of his company to Newmont Mining Corporation. He was involved with the formation of the Hudson Bay Mining and Smelting Company, Kennecott Copper Corporation, Texas Gulf Sulphur, Nevada Consolidated, Inspiration Consolidated, The Ray Mine, the Braden copper property in Chile, and many others.
He was a great humanitarian and naturalist, and a generous contributor to Hoover's relief operations in Belgium and France following the German invasions. In 1917, he went to Russia as a member of a special Red Cross mission. He was the Founder of the Boyce Thompson Southwestern Arboretum in Arizona, which contains the world's greatest concentration of arid climate plants, and the Institute for Plant Research, part of Cornell University.