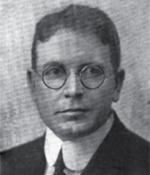 Wilfred Sykes (ISS)
AIME Honorary Membership in 1960
For distinguished service to the steel industry, particularly as a pioneer in the development of electrical equipment for steel mills; active member of many technical societies; effective Director and Vice-President of the Institute, contributor of important technical papers; leader in civic, economic and political affairs.
Wilfred Sykes was born in Palmerstown North, New Zealand, in 1883 hut his family moved to Australia in 1889. He attended the Technical College and University of Melbourne, graduating in 1902. Until I906, he was employed by the Australian representatives of the Allegemeine Elektricitats Gesellshaft, and spent two years in Berlin, Germany, at the head office. In 1909 he came to the United States and, until 1920, was employed by the Westinghouse Corporation where he pioneered in development of large reversing rolling mills.
During World War I he was also consultant to the U. S. Navy in the design of electrical equipment for submarines and other naval vessels. In 1920 he joined the Steel and Tuhe Co. as executive engineer. In 1923 he was consulting engineer for the Colorado Fuel and Iron Co. and the Inland Steel Co. He was appointed assistant General Superintendent of the Indiana Harbor plant of the latter in 1927, and in 1930 was assistant to the president. Mr. Sykes was Director of AIME and later Vice-President from 1935 to 1941. He was President from 1941 until 1949, when he became Chairman of the Executive Committee and of the Finance Committee, retiring from active service at the end of 1953. He received the Charles F. Rand Gold Medal in 1954.