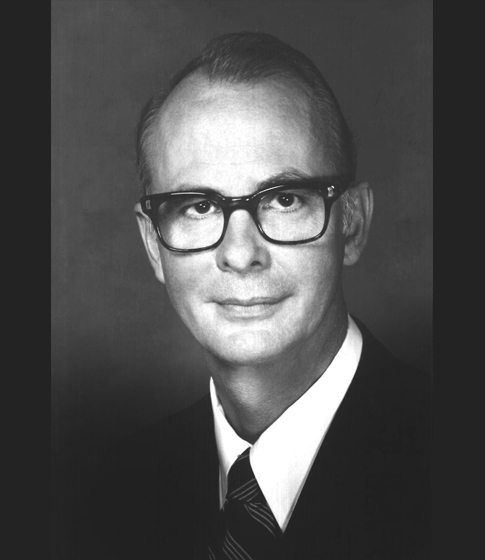 Thomas C. Frick (SPE)
AIME Honorary Membership in 1971
For his unselfish contributions of time and service to the Institute on both the local and national level and for his outstanding abilities as an educator and an administrator in the petroleum industry.
Thomas C. Frick is Vice President and Manager, Central Region and Natural Gas Department, Atlantic Richfield Company. For five years prior to joining Atlantic Richfield in 1941, Mr. Frick was an Associate Professor of Petroleum Production at the University of Tulsa (1936-1941).
Mr. Frick has been a member of AIME since 1936. In 1965, he served as AIME President,and was Chairman of the Petroleum Branch (now the Society of Petroleum Engineers of AIME) in 1956. He was 1969 Chairman of the AIME Lucas Gold Medal Committee, and has served two terms as an AIME Director ( 1956-59 and 1964-67).
Mr. Frick's trade and professional affiliations include membership in the American Association for the Advancement of Science, the American Petroleum Institute, the Texas Society of Professional Engineers, the National Society of Professional Engineers, Mid-Continent Oil and Gas Association-Kansas-Oklahoma Division, Natural Gas Men of the Permian Basin, and the Texas Mid-Continent Oil and Gas Association.
Mr. Frick attended the Missouri School of Mines, and received his B.S. in Petroleum Engineering from the University of Tulsa. In 1968, he was elected to the Hall of Fame of the University's College of Engineering and Physical Sciences.
Mr. Frick is the editor of the Petroleum Production Handbook (two volumes), published by McGraw Hill in 1962. He is listed in Who's Who in America.
Honorary Membership is awarded in appreciation of outstanding service to the Institute or in recognition of distinguished scientific or engineering achievement in fields embracing, broadly speaking, the activities of the Institute. Each candidate must be recommended by the Committee on Honorary Membership. After a unanimous vote by the committee, recommendation is presented to the Board of Directors. By secret ballot, not more than one dissenting vote is permitted for the election of a candidate. The number of Honorary Members shall at no time exceed forty.