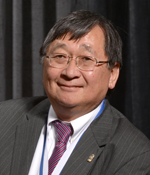 Ta M. Li (SME)
AIME Honorary Membership in 2015
For exceptional advocacy of the minerals industry and being a role model for students pursuing careers in mining, metallurgy, petroleum, and geology, as well as service toward making Mining Engineering the premier mining publication.
Ta Li is regarded as an international authority on minerals industry marketing and business development. He received a B.S. in mining engineering from Columbia University and his 45-year career includes assignments in mine operations and management, journalism, marketing, sales and management-engineering consulting.
During his career, Li worked for Kennecott Copper at its Bingham Canyon copper mine, SME as editor of Mining Engineering magazine, Golder Associates, Behre Dolbear & Co. and Pincock, Allen and Holt. He also worked for Washington Group International, where he received four consecutive Lion Awards and the Eagle Award in 2007. He currently serves as vice president, business development for Tetra Tech, Inc., a global engineering and environmental consulting firm.
Li is the author of more than 40 technical articles on open pit and underground mining. He received the Bright Idea Award from the Denver Gold Group, is a Life Member NWMA and a Distinguished Member of SME. In 2010, he received the Lifetime Achievement Award from the Colorado Section of SME. He recently was elected a U.S. representative to the International Organizing Committee of the World Mining Congress and a member of the SME Foundation Board of Trustees.