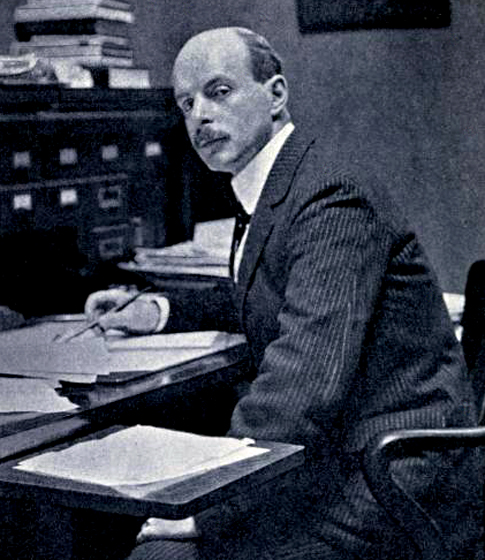 T. A. Rickard (SME)
AIME Honorary Membership in 1935
In recognition of his outstanding achievement as a proponent and preceptor 0f advanced standards in technical concept and writing, and his brilliant contributions to the literature of geology, mining and metallurgy, as editor, journalist and author.
One of the world's foremost mining engineers, T.A. Rickard's greatest claim to mining industry fame comes from his exceptional writing and editing. Born in Italy of a British mining family, he was educated in Russia and England. Upon graduating in 1885 from the Royal School of Mines in London, Rickard headed for Colorado, where he took his first job as assayer for a British mining firm in Idaho Springs. In 1887 he was appointed Manager of the Union Mine in Calaveras County, California. Two years later he was hired as consultant to investigate several mines in England and Australia, and was later sent to the French Alps where he took charge of silver-lead mines. Between 1889 and 1902, Rickard's successful consulting business took him over 35,000 miles a year; he examined over 85 mines in Australia alone. He returned to Colorado, was appointed State Geologist by Governor McIntyre in 1896 and was confidently re-appointed by the two succeeding governors.
His writing and editing became foremost in his career and, in 1903, he took over as editor-in-chief of the famous "Engineering and Mining Journal" in New York. He purchased the "Mining and Scientific Press" of San Francisco in 1905 and assumed editorship a year later. Then on April 18, 1906 came the devastating San Francisco earthquake and fire, and the Press burned to the ground. Rickard's cousin, Tom Rickard, Mayor of Berkley, helped locate an emergency printer, and the "Berkeley Reporter" printed the mining paper on a single sheet. It was mailed out to subscribers while San Francisco was still burning.
Rickard later served as editor of the "Mining Magazine," and authored numerous articles, editorials, and books, including the classic 2-volume "Man and Metals Metals"(1932), "Retrospect"(his autobiography), and "A History of American Mining"(1932),considered to be one of the few great histories of American mining.
T.A. Rickard's views shaped many generations of mining men. He advocated technical education, the importance of thorough sampling and mine examination, and stressed the significance of mine management: "the difference between success and failure."