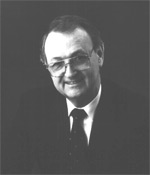 T. Don Stacy (SPE)
AIME Honorary Membership in 1991
An outstanding engineer and petroleum industry executive whose contributions to the Society, the Institute and the engineering profession have yielded significant benefits to practicing engineers and scientists worldwide.
T. Don Stacy, Chairman of the Board and President of Amoco Canada Petroleum Company Ltd .. began his career with Amoco in 1956. He studied petroleum engineering at Louisiana Tech University and later at Mississippi State University, where he earned a Ph.D. in Engineering Science in 1967. From 1963 to 1967. Mr. Stacy was Assistant Professor of Petroleum Engineering at Mississippi State. Mr. Stacy previously lived in Calgary from 1971 to 1975 when he served as Amoco Canada's Chief Engineer Before returning to Amoco Canada as President in 1986, Mr. Stacy was Vice President, Production. for Amoco Production's Central and South American region. From 1977 until 1980, he was Production Research Manager for Amoco Production Company's Research Center in Tulsa.
Mr. Stacy was chairman of the first SPE/DOE Enhanced Oil Recovery Symposium and is a past chairman of the Offshore Technology Conference. A member of the AIME Board from 1982 to 1985, he was the 1983 President of SPE and an AI ME Vice President in 1985. Mr. Stacy was named an SPE Distinguished Member in 1983 and received the SPE Distinguished Service Award in 1986. He has been involved in numerous Canadian and international civic and professional organizations, serving on the Board of Junior Achievement of Southern Alberta. the Executive Committee of the Canadian Petroleum Association, and the Board of Governors of the YMCA of Calgary.