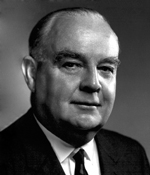 Sir Maurice Mawby (TMS)
AIME Honorary Membership in 1964
For his outstanding contributions to the World lead and zinc mining industry and for his able and constructive services in developing the raw material resources of Australia.
Sir Maurice Mawby was born in Broken Hill, Australia, in 1904. His technical studies began at Broken Hill Technical College, where he graduated with degrees in Metallurgy and Geology, the latter diploma carrying the Bronze Medal of the Sydney Technical College. From 1922 to 1928, he held a variety of positions with the Junction North mine. In 1928, he joined the survey department of The Zinc Corporation Ltd. hut, in 1934, returned to metallurgy. As Assistant Mill Superintendent and as Mill Superintendent, he was responsible for the development of the all-flotation treatment process. In 1940, he served as Technical Secretary to the Commonwealth's Copper and Bauxite Committee, with the responsibility of production of strategic minerals and metals.
In 1944, Sir Maurice became Chief Metallurgist and the first Manager of New Broken Hill Consolidated Ltd. After a period as Director of Research and Development for the Broken Hill Associated Smelters Pty. Ltd., he returned to Z.C. Ltd. as a Director. As General Manager of its subsidiary Enterprise Exploration Pty. Ltd., he directed a widespread exploration for minerals throughout Australia. In 1955, he served as Vice-Chairman of Consolidated Zinc Pty. Ltd. and Chairman in 1961. Following the merger of Rio Tinto and the Zinc Corporation, he became the first Chairman of Conzinc Riotinto of Australia Ltd.
Sir Maurice has been twice President of the Australasian Institute of Mining and Metallurgy, and in 1956, was awarded its Bronze Medal, the Institute's highest honor. He is an honorary member of the Institute of Mining and Metallurgy, London, and has been presented with an Honorary D.Sc. by the University of New South Wales. Her Majesty Queen Elizabeth II, in her 1963 Honours List, conferred on him the title of Knight Bachelor. Since Sir Maurice is unable to he present, Andrew Fletcher will accept the Certificate of Honorary Membership in his behalf.