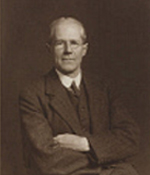 Sir Henry Cort Harold Carpenter
AIME Honorary Membership in 1938
In recognition of his distinguished achievements in the field of metallurgy as an investigator, teacher, administrator and organizer and director of research.
Sir Henry Cort Harold Carpenter FRS was educated at Eastbourne College between 1889 and 1893 and was a fellow pupil and friend of Frederick Soddy. After a first class degree in chemistry he became a demonstrator at Owen's College and in 1901, having worked with Sir William Roberts Austen at the Royal School of Mines, was appointed head of the department of chemistry and metallurgy at the National Physical Laboratory. In 1906 he was appointed to the chair of metallurgy at Manchester.
Sir Henry Cort Harold Carpenter, in collaboration with Miss Elam (Mrs. Tipper) large single crystals of aluminium. The study of their properties has added greatly to the fundamental knowledge of the behaviors of metals in science. In association with G. D. Berwough, O. F. Hudson and others, important contributions were made to the study of metallic corrosion and to the mrates of metal protection.
As is name suggests, he was a descendent of Henry Cort of puddling fame. He was also the grandson of the scientist W. B. Carpenter and the nephew of Estlin Carpenter, Principal of Manchester College, Oxford. After the early death of his father, his uncle Estlin played a major role in his upbringing.
Sir Henry Cort Harold Carpenter died suddenly on September 14, 1940, at the age of sixty-five; he succumbed to heart failure while on a country walk in the neighborhood of Swansea.