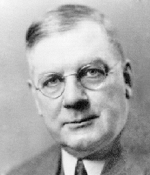 Selwyn G. Blaylock
AIME Honorary Membership in 1944
In recognition of his eminent standing as a metallurgist, engineer and administrator of mining and metallurgical enterprises; and the effective and patriotic service he has rendered his country and the United Nations in these critical times.
Born in 1879 in the small Quebec town of Paspebiac, Mr. Blaylock attended Bishop's College School in Lennoxville, Quebec and in 1899 was graduated from McGill University with a bachelor of science degree.
From that time onwards, Mr. Blaylock was a Westerner. He went to British Columbia in 1899 and worked there as a surveyor for the Canadian Smelting Works in Trail, B.C. Two years later, he became the company's chief chemist. In 1906 the company became Consolidated Mining & Smelting Co. of Canada. From chief chemist and metallurgist, he became general superintendent of the Hall Mines Smelter at Nelson, B.C., then general superintendent of the St. Eugene mines. He recommended purchase of the Sullivan mine and took responsibility for its development. In 1919, he became the company's general manager, a director in 1922, vice-president in 1927, managing director in 1938 and president in 1939.
In his rise to the pinnacle of Cominco, his interest in the welfare of the employees never slackened. His stated belief, "...security, comfort and welfare of workmen will be paid for in increased efficiency and good will of employees…" became a benchmark in Canadian industrial relations circles. In part, at least, the Trail Smoke Eaters who twice carried Canada's hockey colours to a world amateur championship, were a reflection of his philosophy of human relations in a mining community.
Recognition and honors for his work in his profession came to him in abundance. He received the highest award of the time, the Gold Medal of the Institute of Mining and Metallurgy of Great Britain in 1944. Other awards included the McCharles Prize for outstanding work in Canadian Metallurgy from the University of Toronto; the James Douglas Medal for Metallurgy awarded to him in 1928 by the American Institute of Mining and Metallurgy; the Inco Medal awarded by The Canadian Institute of Mining and Metallurgy in 1935 for outstanding work in mining and smelting. He was awarded honorary degrees from McGill University and the University of Alberta, and was a director of a number of companies. A long-time member of The Canadian Institute of Mining and Metallurgy, he served as its President in 1934-35.
Selwyn Blaylock went to B.C. and the predecessor of Consolidated Mining & Smelting when both the country and the company were young and feeling their way into a future that included a depression and two world wars. All three made excessive demands on the abilities of people in such key industries as metal production and fabrication. Selwyn G. Blaylock accepted all challenges, met all challenges, contributed vastly to the body of knowledge of his profession and remained a caring man of modesty and integrity. He died in Trail November 19, 1945 and was buried at Danville, Quebec.