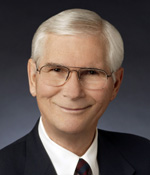 Roy H. Koerner (SPE)
AIME Honorary Membership in 2007
For his years to professional activities, SPE, and community supported by participating in leadership of advisory posts as AIME President, SPE president, University of Tulsa fund raising and more.
Roy H. Koerner, a SPE Distinguished Member and 1995 SPE President, retired from Texaco Exploration Inc. during 1996 in Denver, Colorado. Koerner, an Eagle Boy Scout, grew up in Tulsa, Oklahoma. He joined Texaco as a field engineer in Electra, Texas after earning a Bachelor of Science degree in Petroleum Engineering from the University of Tulsa in 1958. Koerner held several engineering posts in Texas and Louisiana and earned his Master of Science degree in Petroleum Engineering from Louisiana Tech University in 1968. Koerner was appointed Division Petroleum Engineer at Denver in 1973. In 1976 he served in Texacos Strategic Planning Department at Corporate Headquarters in New York. Subsequently, in 1981, Koerner was named Assistant to the General Manager in Houston and there followed several Producing management positions in Houston and Midland, Texas. In 1989 he was named Division Manager of Joint Interest Operations in Denver. Koerner has held many SPE positions since joining as a student member in 1957. He was Section Chairman in Midland and was elected to the Board of Directors in 1989. He began his three-year officer term as President-Elect in 1993. He became President of AIME in 1998 and also served the SPE Foundation as a Vice President, Treasurer and currently holds the two-year position of SPE Foundation President. He recently served on the Foundation Fund Raising committee for the SPE.org campaign and made a substantial gift to the Society for that purpose. He received the Societys Distinguished Service award in 2003. He was inducted into the University of Tulsa College of Engineering and Applied Sciences Hall of Fame in 1995. Koerner served as a member of the Industry Advisory Board for the University of Tulsa Petroleum Engineering Department for many years. Koerner is involved in community affairs having served six years as Chairman of the Board of Directors of the Samaritan Institute, a pastoral, psychological and medical counseling organization headquartered in Denver and subsequently served on the Foundation Board. He is presently the Immediate Past President of the Board of the Colorado Ethics in Business Alliance, an organization that annually honors businesses that exemplify ethical business practices in the workplace and promotes educational activities regarding business ethics. He has written several papers on the subject published by JPT, Harts E&P and Petrotecnia (Argentina). Koerner was awarded the Minoru Yasui Community Volunteer Award in 2004 sponsored by the Denver Foundation and several City, County and community organizations. The Denver Mayor designated July 22, 2004 as Roy Koerner Day. Koerner was honored with the 2005 ChevronTexaco Public Service Award. He is active in his Church and has served on the Session as an active Elder, served on the Board of the Covenant Cupboard Food Pantry and he and his wife MaryAnn work each Friday in distributing food. He and MaryAnn completed a course of study for Commissioned Lay Pastors in the Presbyterian Church. Koerners hobbies are golf, skiing, fly-fishing, reading and he is a Jazz aficionado. He is currently reviving his High School Stage/Jazz Band that has performed for class reunions and a concert for the Tulsa Jazz Society. The Koerners now reside near Denver, Colorado. They have three grown sons and two are Petroleum Engineers. They also have two grandsons located in Arroyo Grande, California and two granddaughters in Houston, Texas.
1.\tKoerner, Roy H.: The Third Wave: Industry Restructuring Yet to Come, JPT, March 1997, 258.
2.\tKoerner, Roy H.: Business Ethics Pays: A Modern Approach, Oil & Gas Executive, September 1998, 46.
3.\tKoerner, Roy H.: Quiere Obtener Mayores Ganancias? Pruebe con las Practicas de la etica en los negocios. Petrotecnia (IAPG-Argentina), August 2001, 56.
4.\tKoerner, Roy H.: Want More Profit? Try Ethical Business, Harts E&P, March, 2002, 7.
5.\tKoerner, Roy H.: Is Your Company Right or Enron-g? JPT Guest Editorial, May 2002, 12.
6.\tKoerner, Roy H.: Safe Drinking Water: A Case for Service, JPT Guest Editorial, 2007, 20.