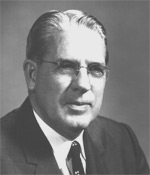 Robert H. McLemore (SPE)
AIME Honorary Membership in 1977
For his many important contributions to the advancement of petroleum production technology and,for outstanding service to the Society of Petroleum Engineers and the Institute.
Robert H. McLemore, president of the Otis Engineering Corporation since 1957, retired in 1975. He was also a director and member of the executive committee of the Halliburton Company, the parent organization of Otis, from 1968 until his retirement.
He received his B.S. degree in petroleum engineering from Texas A&M University in 1933. In 1941 he left his position as division engineer with the Sun Oil Company to enter the Army Air Force. During World War II Mr. McLemore served as an engineering officer with the 20th Air Force in the Western Pacific and was released in 1945 with the rank of Colonel.
In 1946 he joined the small group that formed Welex Jet Services and was instrumental in the development and licensing of the "shaped" charge or "jet" process of perforating oil well casing.
Mr. McLemore has served AIME in numerous capacities since joining in 1938. He is a former vice-president and director of the Institute and a former president, director and treasurer of the Society of Petroleum Engineers of AIME. He also served as chairman of the executive committee of the Offshore Technology Conference. His other professional affiliations include the American Petroleum Institute, the Mid-Continent Oil and Gas Association and the Petroleum Equipment Suppliers Association.