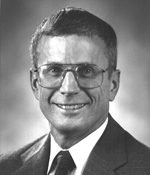 Robert C. Earlougher, Jr. (SPE)
AIME Honorary Membership in 1997
For exceptional quality and volume of his contributions to petroleum engineering technology, especially in the area of well testing: for embodying the highest standards of professionalism in his work and in the expectations of his peers: and in recognition of more than 30 years of distinguished and exemplary service to the SPE at all levels.
Robert C. Earlougher. Jr. is vice president of international production for Marathon Oil Company. He received BS, MS and PhD degrees in petroleum engineering from Stanford University. Dr. Earlougher has spent his entire career with Marathon starting in 1966 at the company's Petroleum Technology Center in Littleton, CO. From there he worked in Wyoming and Illinois and moved to London as coordinating manager, Production UK. In 1990 he was named manager, Brae Projects and in 1994 transferred to Houston to assume responsibility of Manager, Business Development, Worldwide Exploration and was elected VP shortly thereafter.
He has been active in the Society of Petroleum Engineers (SPE) for over 30 years and has served on or chaired many SPE national level committees; and has been an officer in the Denver and London sections. He has been an SPE director and was an SPE Distinguished Lecturer in 1985-86. Dr. Ear-lougher is a registered Professional Engineer in CO, TX, OK and CA; he holds several patents, has published more than 25 technical articles and authored the SPE monograph Advances in Well Test Analysis. He is a Distinguished Member of SPE has received the Lester C. Uren and the John Franklin Carll Awards. In 1996 he was elected to the National Academy of Engineering.