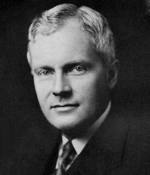 Paul D. Merica (TMS)
AIME Honorary Membership in 1942
For his outstanding leadership in physical metallurgy; for his contributions to the improvement of ferrous and nonferrous alloys, both through invention and practical development; and for his distinguished and devoted services to this Institute.
Dr. Merica was born in Warsaw, Indiana, on March 17, 1889. He attended the Warsaw High School and then spent three years at De Pauw University. In 1907 he went to the University of Wisconsin, where he obtained his A. B. degree in 1908. The following school year, he was instructor in physics at Wisconsin after which he taught "Western subjects" for two years in the Chekiang Provincial College at Hang- chow, China. Next he attended the University of Berlin from which he received his Ph.D. in 1914.
After his formal schooling in Berlin, Dr. Merica took a temporary post as special investigator on caustic embrittlement of steel at the University of Illinois. He then went to the National Bureau of Standards, where he remained from 1914 to 1919, holding positions as research physicist, associate physicist, physicist, and metallurgist.
In 1919 he was employed by The International Nickel Company, an association which lasted thirty-eight years. Starting at its Orford Refinery in Bayonne, New Jersey, as physical metallurgist, he soon became Superintendent of Research and subsequently Director of Research. In 1931 he was transferred to the New York office and was made Technical Assistant to the president of the parent company, The International Nickel Company of Canada, Limited, and in 1932 assistant to the president. He became a director of the parent company in 1934, and Vice-President in 1936, remaining in general charge of the company's research activities. Dr. Merica was elected Executive Vice-President in 1949 and President in 1952, retiring at his own request from the last position in 1954. He held corresponding offices in the United States subsidiary, The International Nickel Company, Inc. After Dr. Merica's retirement as President he remained on the board of directors and was consultant to Inco officers on important projects, policy, and major research and technical activities.
Dr. Merica in later life spent a large part of his energy in managing, planning, and generally doing those tasks which only the captains of industry can do. However, he never ceased to be a scientist and a technologist. His professional standing can be judged merely by mentioning some of the honors he has received and some of his associations with professional societies. In 1929 he was awarded the James Douglas Gold Medal of the American Institute of Mining and Metallurgical Engineers; in 1938 he was awarded the John Fritz Gold Medal by the four founder engineering societies; in 1941 he received the platinum medal of the British Institute of Metals; in 1942 he was awarded the Franklin medal by the Franklin Institute, and in 1951 he received the gold medal of the American Society for Metals.
Dr. Merica was elected to membership in the National Academy of Sciences in 1942, as a member of the Engineering Section. Among other associations he was a fellow of the American Association for the Advancement of Science, and a member of the American Iron and Steel Institute, American Chemical Society, American Society for Testing Materials, American Physical Society, Institute of Metals and the Iron and Steel Institute (both of Great Britain), and Canadian Institute of Mining and Metallurgy. He was quite active in some of the societies, having been a member of the executive committee of the American Society for Testing Materials, a member of the board of directors of the American Society for Steel Treating, Vice-President and a member of the board of directors of The American Institute of Mining, Metallurgical, and Petroleum Engineers, and Vice-President of the American Electrochemical Society.