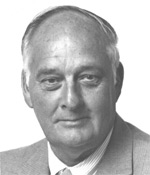 Orville D. Gaither (SPE)
AIME Honorary Membership in 1994
In recognition and appreciation of his outstanding leadership and dedicated service to the Institute and the Society, and for his noteworthy contributions, leadership and involvement in community affairs.
Orville D. Gaither is Chairman of Gaither Petroleum Corp., which buys low-priced, proven producible properties for investors or assumes major companies' high-cost reserves and operates them at a low cost to extend reserve life and increase production. Gaither retired from Amoco in 1991; he joined Stanolind Oil & Gas Co. (later Amoco Production Co.) in 1948 prior to receiving his BS degree in mechanical engineering from Rice University in 1949. He earned an MS in petroleum engineering from the University of Houston in 1962 and later attended a senior executive business program at Stanford. During his career at Amoco he was involved in domestic and international operations and was President of Amoco's Africa and Middle East Region in Houston when he retired.
Gaither was SPE President in 1990 and became a Distinguished Member and a Foundation Trustee the same year. He has held several AIME and SPE positions and served on various committees. In 1991 he was honored by the American Society of Mechanical Engineers/University of Houston "Oil Drop Award" for his hard work and dedication to the community.