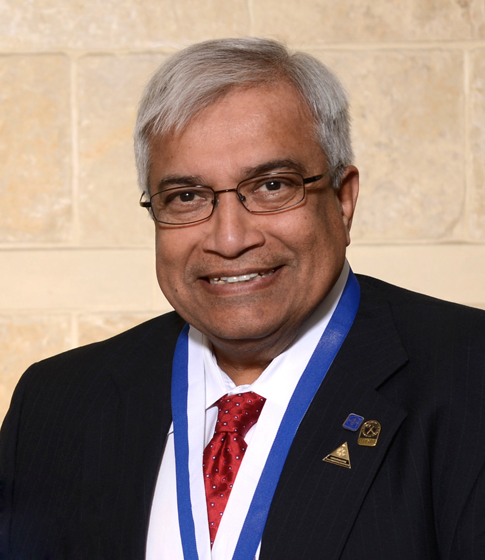 Nikhil C. Trivedi (SME)
AIME Honorary Membership in 2013
For 40 years of exceptional contributions to SME including his service as President and Board Member and for his contributions to industry, especially in the industrial minerals sector.
Nikhil Trivedi joined SME as a student member in 1968. He has been actively involved at SME for better part of the last four decades. He has a B.S. degree in chemistry and geology from the University of Bombay, India, an M.S. degree in metallurgy and mineral economics from the Mackay School of Mines, University of Nevada-Reno and a Ph.D. in chemical engineering and microbiology from the University of Minnesota. For 30 years, Trivedi worked for Pfizer's Minerals Division which is now known as Minerals Technologies Inc. His last position there was chief technology officer. After his retirement in 2004, he founded Idekin International, a consultancy in the industrial minerals arena. He is a senior partner at Idekin and lives in Easton, PA.
Trivedi has served on the SME Executive Committee, Nominating Committee and the Governance and Organizational Strategic Committee. He has served as the 1993 SME Program Chair 1993 and on SME Board of Directors from 1993-1997 and from 2006-2008. Additionally, he has served on the board of directors of the Industrial Minerals Association of Europe from 1995-2003 and the Calcium Carbonate Association of Europe, 1994-2003.
Trivedi is a Distinguished Member of SME, class of 1998. He received the Industrial Minerals Division Distinguished Service Award and AIME's Hardinge Award. The Mackay School of Mines awarded him the John William Mackay Outstanding Alumni Award for 1995. The SME Foundation has honored him with the John T. Boyd Challenge plaque. He received the SME Presidential citation in 2007. He was senior editor of the seventh edition of SME's Industrial Minerals and Rocks and currently serves as an associate editor on the Peer Review Editorial Board for Mining Engineering and Transactions.