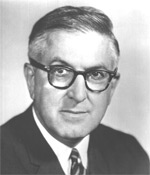 Michael Tenenbaum (TMSISS)
AIME Honorary Membership in 1980
For his internationally recognized contributions to the science and technology of steel production and for the example set by his innovative, technically based management of a large steel company.
Michael Tenenbaum retired as President of Inland Steel Company in 1978, and continues to serve on its Board of Directors. He joined Inland in 1940, after obtaining his Ph.D. from the University of Minnesota in metallurgy and physical chemistry. Before his election to President in 1971, Dr. Tenenbaum had served Inland as Vice President of Research, and of Steel Manufacturing.
Dr. Tenenbaum is a former vice president and director of AIME, and a past president and director of The Metallurgical Society of AIME. Recently, the Iron and Steel Society of AIME established the M. Tenenbaum award in his honor.
A Fellow of TMS-AIME, and a Distinguished Member of ISS-AIME, Dr. Tenenbaum has also received AIME's Benjamin F. Fairless and Rossiter W. Raymond awards, Robert W. Hunt Silver Medal, and was a Howe Memorial Lecturer.
Dr. Tenenbaum is a member of the National Academy of Engineering, the Western Society of Engineers, and a Fellow of the American Society for Metals which awarded him its Advancement of Research Medal. He was also the 1977 recipient of the Washington Award for accomplishments which preeminently promote the happiness, comfort and well-being of humanity.