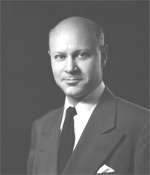 Michael L. Haider (SPE)
AIME Honorary Membership in 1964
Distinguished petroleum engineer and outstanding business executive whose skill and experience in research, exploration and production have greatly contributed to the progress of the petroleum industry throughout the world; and whose imaginative leadership as president of a great company has earned him the esteem of the entire business community.
Michael L. Haider, President and Vice-Chairman of the executive committee of Standard Oil Co. (New Jersey), has been with that organization since 1929. He was elected to the Board of Directors in 1959, a Vice President in 1960, Executive Vice-President and member of the executive committee in 1961. He was elected President in March, 1963.
Born in Mandan, North Dakota, in 1904, Mr. Haider has had extensive experience in petroleum research, exploration and production. He joined The Carter Oil Co. in 1929, two years after receiving a degree in chemical engineering from Stanford University. He was promoted to chief petroleum engineer in 1935, and a year later was placed in charge of all phases of the company's engineering work.
Transferred to New York in 1938, Mr. Haider was made manager of production engineering and research for Standard Oil Development Co. (now Esso Research and Engineering Co.), he became executive assistant in the parent company's producing department.
In 1946, Mr. Haider joined Imperial Oil Limited, Jersey's Canadian affiliate, as head of the producing and exploration department. He was elected a Director in 1948 and a Vice-President in 1950.
Mr. Haider returned to Jersey Standard in 1952 as Deputy Coordinator of the company's world-wide producing activities. After two years he was elected President of International Petroleum Co., Ltd., whose principal activities are in Colombia, Peru and Venezuela. He held this post until his election as a Director of Jersey Standard. Mr. Haider was President of AIME in 1952.