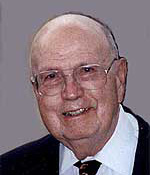 Melvin E. Nickel (ISS)
AIME Honorary Membership in 1979
In recognition of his contributions to the initial development of operating practices in basic oxygen steelmaking and his forty-two years of devoted and outstanding service to the steel industry, the Iron and Steel Society and AIME.
Melvin E. Nickel is Manager of Facility Planning for Wisconsin Steel, a division of Envirodyne Industries. He received his BS degree in metallurgical engineering from the University of Missouri at Rolla in 1938 and began his steelmaking career with Bethlehem Steel. In 1939 he joined Wisconsin Steel, then a division of International Harvester Company.
Starting as a practiceman in the Blast Furnace Department, he progressed through various positions of responsibility until 1960 when he headed the investigation of the use of oxygen in steelmaking. He was responsible for the design and construction of the new oxygen steelmaking facilities and of the development of operating practices. Subsequently Mr. Nickel became Superintendent of Basic Oxygen Furnaces, Manager of Steel Production; Manager of Primary Operations including the operational responsibility for the Coke Plant, Blast Furnaces, Basic Oxygen Furnaces, and Continuous Casting; in 1975 he assumed his present position.
He served as a director of AIME from 1974 to 1976; was Vice President of the Institute in 1975-1976; was the first President of the Iron and Steel Society; Chairman of the Iron and Steel Division of The Metallurgical Society of AIME; Chairman of the National Open Hearth and Basic Oxygen Steelmaking Division of ISS-AIME; Chairman of the Chicago Section, AIME; and member of AIME President's Special Ad Hoc Committee for the formation of the Governmental, Energy and Mineral Affairs Committee.
Mr. Nickel received the Distinguished Merit Award from the University of Missouri at Rolla in 1960, and was awarded an Honorary Professional degree in Metallurgical Engineering in 1967. He received the James B. Austin Award of the Iron and Steel Society in 1976, and was named a Distinguished Member of the Iron and Steel Society of AIME in 1977.