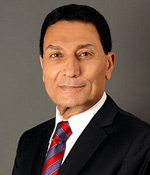 Medhat M. Kamal (SPE)
AIME Honorary Membership in 2013
For his tireless and devoted time and effort to advance and disseminate petroleum engineering technology, to establish excellent standards for the profession through SPE services to its members and to support research and education programs at universities during more than 40 years of SPE membership.
Medhat M. Kamal, senior consultant– dynamic reservoir characterization team leader at Chevron in San Ramon, California, has served more than 45 years in the areas of reservoir description and dynamics and production engineering. He began in teaching roles at Cairo University's Faculty of Engineering and Stanford University. Starting in 1973, he served as a research associate at Amoco, then interpretation department manager at Flopetrol Johnston Schlumberger during 1984–88. After assuming the position of senior advisor at Arco Exploration and Production Technology, he moved to his current role at Chevron. The author or coauthor of 28 technical papers and one book, he has served on several SPE boards and committees, including the SPEI Board of Directors, executive editor of SPE Reservoir Evaluation and Engineering Journal, and chairman of the SPE Dallas Section.
Kamal received the 2004 SPE Formation Evaluation Award, the 2004 SPE Distinguished Service Award, SPE Distinguished Membership in 1983, and the 1977 SPE Cedric K. Ferguson Medal. In addition to other awards, he was named 1994 Petroleum Engineer of the Year by the Texas Society of Professional Engineers. He earned a BSc in petroleum engineering and an MSc in engineering—both from Cairo University in Egypt— and a PhD in petroleum engineering and computer science from Stanford University.