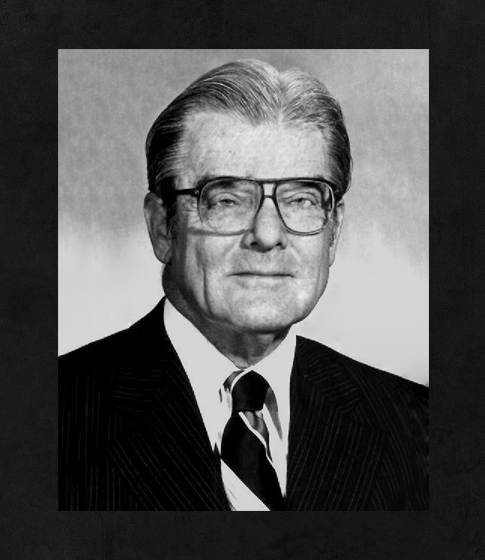 M. Scott Kraemer (SPE)
AIME Honorary Membership in 1984
For maintaining the highest standards of professionalism as engineer and corporate executive, and through a period of more than 40 years membership in AIME during which he established an outstanding record of aChievements in local section membership development and public awareness areas and for his service as President of SPE and AIME.
Edward E. Runyan is President of Runyan Oil Co. in Midland, TX Previously he was president and chairman of Weeks Petroleum Ltd., based in Bermuda. Past affiliations include Bailey, Sipes, Williamson & Runyan Inc.; Elcor Chemical Corp.. Permian Enterprises Inc ; and Standard Oil Co of Ohio.
M. Scott Kraemer retired as Vice President and Regional Director of Champlin Petroleum Co. in 1986. He joined the company in 1981 after 38 years with Amoco Production Co. He holds a B.S. in Petroleum Engineering from Texas A&M University and attended the Institute for Management at Northwestern University.
Mr. Kraemer began his career with Amoco in 1943, becoming Division Engineer in Houston in 1958, Chief Engineer in Tulsa in 1966, General Manager of Production in Chicago in 1974 and Regional Production Manager in Denver in 1975.
A long-lime member of the Society of Petroleum Engineers, Mr. Kraemer was Chairman of the Gulf Coast Section in 1959, on the SPE Board of Directors 1970-1973. and was President of the Society in 1972. He served on the AIME Board of Directors from 1971-74 and 1979-82. He was President of the Institute in 1980. In 1976-77 he was SPE representative to the Offshore Technology Conference, serving as Chairman in 1978. Mr. Kraemer received the SPE Distinguished Service Award in 1974, and was named an SPE Distinguished Member in 1983. He was elected to AIME Honorary Membership in 1983.