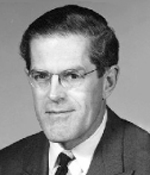 M. R. J. Wyllie (SPE)
AIME Honorary Membership in 1992
For major contributions to the fields of reservoir engineering and formation evaluation; and in recognition of a distinguished career as industry researcher, administrator and executive.
M.J.R. "Jesse" Wyllie, retired petroleum executive, scientist, engineer and amateur sport car racing driver, passed away peacefully at the age of 90, on Friday evening, February 12, 2010, at his residence in Troy, Virginia.
Jesse Wyllie is probably best known in his industry as the father of modern well log interpretation. His research was largely responsible for the recognition of formation evaluation as a science. He holds 72 United States and foreign patents on developments related to exploration and production in the oil industry, as well as authoring numerous papers and books in the fields of reservoir engineering, geophysics and geochemistry.
Wyllie was president of Gulf Research and Development Company, Pittsburg, Pennsylvania from 1968 until 1970. He joined the Gulf in 1947 as an electrochemist and later became head of the Petrophysics Section, assistant director of the Geology and Geochemistry Division, and director of the Reservoir Mechanics Division. In 1970, moving to London, England, Wyllie became executive vice president of Gulf Oil Corporation, Eastern Hemisphere, and subsequently moved on to become president, and then chairman, of that company in 1975. He also served as chairman of Kuwait Oil Company, Kuwait City, in 1974. Returning to the United States in 1976, he became vice president of Exploration and Production, Gulf Oil Corporation, Western United States and Alaska, and served until retirement in 1978.
He began his racing career in the Pittsburg, Pennsylvania area, where he was working for the Gulf Research and Development Corporation. To fellow racers, Malcolm Robert Jesse Wyllie was simply, "Doc". Doc Wyllie was one of the east-coast's top amateur sports car drivers during the 1950's through early 1970's, when the sport was slowly moving into a profession eventually dominated by professionals. As one of the early pioneers of the Sports Car Club of America (SCCA), he drove at various times a Jaguar, Lotus, Porsche, Lola, Corvette, and Bobsy in races held at the time on country roads and village streets, and later, purpose-built tracks. Those tracks are now legendary, Watkins Glen (New York), Elkhart Lake (Wisconsin), MacDill Air Force Base, Cumberland (Maryland), LeMans (France), and Danville's Virginia International Raceway.
Despite a hectic work schedule for the Gulf Corporation, he and his wife, Peggy, attended as many race meetings as possible. According to the legendary John Fitch, World War II pilot and one of America's best-ever sports car drivers, Wyllie was "the kind of driver you'd like to drive against all the time; absolutely dependable, fast and confident." In 1957, Jesse and Peggy shared Doc's Lotus, winning the G Class race at Road America 500 in Wisconsin. Wyllie finally won a cherished United States National Championship, Class G, in 1962, driving a Lola, taking the majority of wins that season. He continued racing, and winning, into 1970, when he suddenly hung up his helmet, mainly due to his accepting the Gulf Oil Company assignment in London, England.
After retirement in 1978, he and his wife, Peggy, moved to central Virginia and "Cumber", the Angus cattle farm that became their home. Jesse took up landscape oil painting avidly and showed his work with the Charlottesville-Albemarle Art Association. He also continued to serve as a chief steward with the Sports Car Club of America. Jesse and Peggy are recognized for their support of community organizations, such as the Fluvanna Historical Society and local SPCA. Most recently they were recognized by Sweet Briar College, Peggy's alma mater, for support of the college's unique Engineering curriculum for women.
Born in Cape Town, Union of South Africa, Jesse was the son of the late Hugh Macrae Wyllie and Jeanie Katherine Wyllie. He often reflected on his wonderful boyhood in Cape Town and his preparatory education at the South African College School (SACS), which he often visited during annual trips to South Africa. His studies lead to a Chemical Engineering curriculum at the University of Cape Town and a B.Sc. (Chemical Engineering) in 1939. Upon graduation, he was elected a South African Rhodes Scholar, entering Magdalen College, Oxford University in England, where he received a Doctor of Philosophy (Chemistry) in 1942.
During World War II, Jesse served with the Royal Navy (RNVR and SANF(V)) from 1942 until 1946 reaching the rank of Lieutenant Commander. Assignments involved work with the Department of Miscellaneous Weapons Development, better known in the service as the "Wheezers and Dodgers", an unusually talented group of officers who developed many unorthodox devices, from rockets to anti-submarine weapons. In 1944, he was seconded to the staff of Supreme Allied Command, South East Asia serving as Deputy Director, Admiralty Research and Development (India). Returning to London, he was demobilized in 1946.
Following World War II service, he continued his Rhodes Scholarship work in the United States as a Research Fellow at Johns Hopkins University, Baltimore, from 1946 until 1947, where he and Peggy, his wife of 62 years, met. Even after entering corporate employment Jesse continued studies at the University of Pittsburg (1956) in management, and in 1958, Oxford awarded him an additional Doctor of Science degree in recognition of his published research work in the fields of geophysics and geochemistry. He became a naturalized citizen of the United States of America in 1961.
The Society of Petroleum Engineers (SPE) honored him in 1992 with its Honorary Member distinction, which is its highest recognition for outstanding service to the Society and scientific or engineering achievement. He was also SPE Distinguished Lecturer in 1962; Gold Medalist, Society of Professional Well Log Analysts, 1968 and Distinguished Author, Society of Exploration Geophysicists, 1969. He retained membership in the American Chemical Society, Society of Petroleum Engineers, and the Society of Petrophysicists and Well Log Analysts, where he continued to contribute comments on current issues.