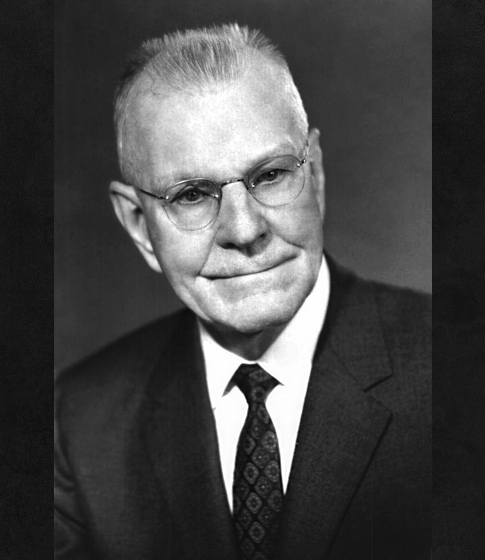 M. King Hubbert (SPE)
AIME Honorary Membership in 1978
For his significant contributions in the areas of hydrodynamic entrapment of petroleum; and the mechanics of faulting and fracturing; and for his early warning and his accurate prediction of the current shortfall in discovery and production of petroleum.
Dr. M. King Hubbert is Research Geophysicist with the United States Geological Survey in Washington, D.C. A native of Texas, he received his B.S., M.S., and Ph.D. degrees in geology and physics from the University of Chicago.
From 1931-1940, Dr. Hubbert taught geology and geophysics at Columbia University, and conducted geophysical surveys for the Illinois State and United States Geological Surveys during the summer months. He was engaged in mineral-resource studies for the Board of Economic Warfare during World War II.
In 1943, Dr. Hubbert joined Shell Oil Company, Houston, where he was successively Research Geophysicist, Associate Director of Exploration and Production Research, and Consultant in General Geology. In 1964, he retired from Shell and assumed his present position as well as a post at Stanford University as Professor of Geology and Geophysics. He retired from the latter in 1968.
Dr. Hubbert's researches have embraced principally (1) the physics of underground fluids, including the migration and entrapment of petroleum under hydrodynamic conditions (2) the mechanics of geologic structures, and (3) the study of world mineral resources and their implications in human affairs.
Dr. Hubbert has been a member of AIME since 1938. He is also a Fellow and former President of the Geological Society of America; Member and Associate Editor of the American Association of Petroleum Geologists; Member and former Editor of the Society of Exploration Geophysicists; Member of the American Geophysical Union; Fellow of the American Association for the Advancement of Science; and a Fellow of the American Academy of Arts and Sciences. He is also an Associate Editor of the Journal of Geology. A member of the National Academy of Sciences since 1955, Dr. Hubbert has served on many of its Committees and during 1961-62, he was a member of the Academy's Committee on Natural Resources, advisory to President John F. Kennedy.
Dr. Hubbert's studies of the flow of underground fluids span more than 30 years. Three of his papers in this area were recently published as a book, Theory of Ground-Water Motion and Related Papers. He has participated in numerous conferences and symposia dealing with natural resources and environmental problems and has written extensively in these areas. He most recently presented his paper "Energy Resources for Power Production" before the International Atomic Energy Agency Symposium on Environmental Aspects of Nuclear Power Stations" in August, 1970, at the United Nations Headquarters.