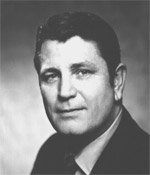 Lawrence B. Curtis (SPE)
AIME Honorary Membership in 1987
For the profound impact his innovations have had, especially in deep offshore areas and for his global perspective that has dramatically influenced the evolution of the Society of Petroleum Engineers from a national to a transnational organization.
Lawrence B. Curtis is Vice President of Conoco's Production Engineering Services. In 1949 Mr. Curtis joined Conoco's Production Department in Big Springs, Texas. and subsequently was assigned to several locations within North American Production operations. He became Chief Engineer over Conoco's International Operations headquartered in New York City in 1963 and in 1967 he became Manager of Conoco's International Production Operations. Mr. Curtis moved to Houston in 1971 as General Manager of Engineering for worldwide production operations and Head of Production Engineering Services, and was elected to his current position in 1980.
Mr. Curtis has long been active in professional engineering activities. He is a past President of the Society of Petroleum Engineers and has served as Vice President of AIME. He was an SPE Distinguished Lecturer and has served on several major committees and the boards of directors for both SPE and AIME.
Mr. Curtis has received the SPE DeGolyer and Distinguished Service Awards and the Colorado School of Mines Distinguished Achievement Medal. He chaired the Coordinating Committee of the National Petroleum Council on an Enhanced Oil Recovery Study in 1984. Presently, Mr. Curtis serves on the SPE Foundation Executive Committee, the Board of Industrial Advisors of the University of Houston. and the REDDI Council of Rice University.